If you've ever woken up and caught that first glimpse of yourself in the mirror and thought, gee the universe has really done a number on me today, then you'll relate to Dolce Blue's latest single Nothing Bad. Following their recent wins with Dream Catcher receiving support from the likes of triple J, RTRFM, Pilerats, and landing them slots at RTRFM's 45th Anniversary Party and the inaugural Way Way West, the group follow on with a more up-beat tone on their indie-pop meets alt-rock style with their new release.
Born from repetitive routines with consistent inconveniences, Nothing Bad is a track that can be taken literally (how privileged I am that nothing that bad really happens to be) or sarcastically (I wish things would go my way for once), music is subjective. With a crushing repetitive beat flourished by trills of guitars, the song's instrumental backing remains simple and builds gradually to allow the lyrics to speak volumes.  "I think I was riding by bike when I wrote this song" shares singer/ guitarist/ songwriter Veronica "It was a cold morning, or maybe I was just cold, and I had just tried to water my sad and small excuse of a front lawn patch when the elderly lady next door yelled to me that it's not my water day, I wasn't sure because I was just going off what the previous tenant had communicated to me. Anyway, I packed away the hose then was riding to work or uni, there was a lot going through my head/ a lot happening around me at the time and the melody and lyrics just started playing in my internal dialogue as the rhythm of my rusty old bike chain churned. It kind of just stuck with me and as soon as I got home I wrote it all out."
Hailing from the hills of Kalamunda, Brody Honey, Daniel Taylor, Lachlan Casey and Veronica Zurzolo all attended the same local high school, remaining the best of friends for the many years that have followed. Because of their love of music (and for one another) Dolce Blue's lineup remains the same since their debut single New White Sneakers (2018) to the present day. With an album, EP and a sprinkling of singles in their pocket they're working alongside local producer Michael Strong (Pat Chow, Odlaw) towards their second album, set for release early 2023 under indie record label Blue Grey Pink. Selling out their own local shows and playing alongside the likes of Shag Rock, Noah Dillon, Lucy Peach and Ghost Care, they've steadily built their local fanbase winning over anyone who loves a catchy melody, honest story, or shreddin' guitar lick.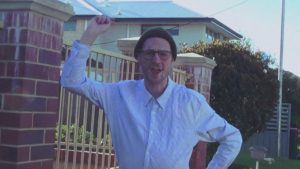 DOLCE BLUE – NOTHING BAD OFFICIAL VIDEO
Praise for Dolce Blue 
"Okay take me to dreamy indie pop paradise why don't you." Claire Mooney, triple j unearthed
"Super cruisy, Dolce Blue! 'sif you aren't the coolest crew in Kalamunda!" Dave Ruby Howe, triple j unearthed
"Dolce Blue are a remarkably special band, if you haven't come across them already. The four-piece specialise in this blend of melancholic and sweet indie-pop; detailed with swaying melodies and rich, yet often-intimate lyricism that blend together to create hazy bursts of alt-pop and indie brilliance, something they've consistently shown ever since their debut a few years ago." Hayden Davies, Pilerats
"Driven by the entrancing vocals of Veronica Zurzolo and backed by the breezy, summery melodies of fellow band members Lachy, Daniel and Brody, the four piece produce a beautiful sound reminiscent of earlier works from Alvvays and Best Coast." Gavin, Good Vibrations
NOTHING BAD single launch 
Friday June 17 at The Bird, Northbridge WA