BLUE GREY PINK proudly presents:
Perth Favourites BIG ORANGE Surprise with a Timeless & Uplifting Christmas Track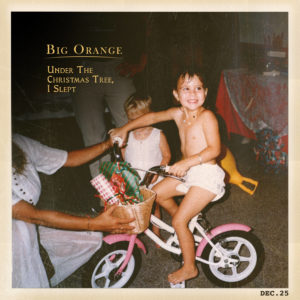 A year on (nearly to the day) from the release of their debut album, the Perth alt-indie-pop-esque group are back to showcase their evolution, with a brand new track titled "Under The Christmas Tree, I Slept", out on Blue Grey Pink, Friday December 3rd.
 The announcement rounds out a year full of highlights following the release of their Debut LP 'An Ode To Odious' back in Nov, 2020 which well and truly solidified their place in the Australian Music Landscape. RTRFM placed 'An Ode To Odious' as Local Feature the week of it's release. Tracks received extensive airplay on community and national stations including 3RRR, 4ZZZ, Triple J and Double J. All singles were placed as features in RTRFM's Sound Selection with 'Apocketlipstick' becoming the station's #14 most played tracks in 2020. Adds also came in the form of Apple Daily Playlisting and Bandcamps 'New and Notable' List. 'I Wanna Know' was nominated WAM Rock Song of the Year 2020 and  The Music listed Big Orange in their Top 25 Artists to Watch in 2021.  The attention led to a number of coveted support and festival slots including RTRFMs flagship event 'In The PINES', WAMfest and the inaugural WAY WAY WEST Festival.
Filled with uplifting melodies, bright percussion, warm guitars and impassioned keys. "Under The Christmas Tree, I Slept",  provides a distinct and effortless shift from Big Orange's previous darker themes on 'An Ode To Odious',  The song is written from Davis's usual point of fantasy, in this case from the perspective of a little girl waiting for Santa on Christmas eve. A richly layered and sophisticated track, stirring emotions of excitement and cheer, while staying true to their signature melancholic and nostalgic undercurrent that Big Orange do so well.
"The song is a Christmas day tradition in the Davis household with Daniel treating his fam to  an acoustic version which more than often ends with a good ole fashioned sing-a-long" – Emma Adams, Big Orange
In usual style the track was recorded by Davis at his home studio in West Leederville and then taken to Dave Parkin at Blackbird Sound Studios, Perth to add the 'Parko Sparkle'  and mastered by Brain Lucy at Magic Garden, NYC
The brainchild of songwriter and multi-instrumentalist Daniel Davis, Big Orange is a combination of some of West Australia's best and most recognisable faces in music both on the live stage and behind-the-scenes. An ever-evolving project, featuring Emma Adams on synth and percussion, David Jago (Odlaw, Mezzanine) on bass, Jamie Gallacher (New Talk, Pat Chow) on drums, Chris Davis (The Wilds) on guitars, and Daniel Davis at its heart on keys, guitar and vocals.
UNDER THE CHRISTMAS TREE, I SLEPT is out NOW on Blue Grey Pink